NMCG Avocats maintains its growth and integrates the business law firm Chain Avocats
Written on
2 November 2022
The Paris office of NMCG integrates Chain Avocats, consolidating its status as a full service business law firm.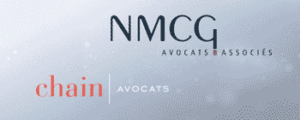 Since its creation in 2008, NMCG has always sought to meet the expectations of its customers, by innovating, adapting and strengthening.
It is in this spirit and under the impetus of Arnaud Blanc de la Naulte and Laurent Courtecuisse, founders and partners, that NMCG approached Chain Avocats.
Composed of 4 partners, Cyril Chabert, Frédéric Levade, Lauren Sigler and Bernardine Tyl-Gaillard, accompanied by their teams, Chain Avocats originally built its reputation on a particular specialisation in e-commerce, distribution, consumer, competition and banking law.
In addition to the arrival of new partners in employment and commercial/contracts law, NMCG is strengthening its expertise in new technologies and the digital economy, and is creating three new departments, in competition law, banking law and sports law.
For NMCG and Chain Avocats, the development of their structures is an obvious opportunity: it is a rapid growth plan for the firm but also a real opportunity for their clients who will have at their disposal departments with transversal competences and able to answer all their problems.
According to the NMCG partners :
"We knew each other and had been looking at each other for some time. After more in-depth discussions, it quickly became apparent that we were totally in tune with the practice of our profession, but we also had an ideal complementarity that was in line with our areas of development. For example, one of our new partners has a doctorate in law and is a lecturer; he has a direct link with the academic world, which is often of little interest in our profession, to provide new angles of analysis and approach, in addition to the assurance of constant training and excellence for our teams. We will also be able to consolidate our global expertise with our clients with the creation of three new departments, the development of our new technologies and e-commerce department, as well as the strengthening of our employment law and financing departments, not forgetting an innovation that completes a sector of activity that we have been developing, sports law.
For the Chain partners :
"This alliance is in line with our recent thinking and development. It allows us to have a national base and to join an international network of which NMCG is a member (LEI), while strengthening our areas of expertise. With the evolution of our business and legal practices, it seemed crucial to join forces, and NMCG was the ideal structure to enable this evolution.